Live camera activation - Video streaming
What if you wanted to see everything happening within the surroundings of your target phone? Thanks to Spy Verity, you can remotely activate a target phone's camera and start a video streaming session, receiving its live video feed. The video streaming feature is an exclusive feature of Spy Verity! We are the only ones around offering unlimited live video streaming. You can activate the video streaming feature on your target phone's camera as many times as you want. Spy Verity adopts several proprietary compression systems, allowing for excellent quality streaming while consuming very little data traffic. Each function of Spy Verity has been thoroughly studied and designed. If you need this exclusive feature, all you have to do is rely on Spy Verity for monitoring your phone.
The real time camera activation feature will allow You to:


Activate a remote live video streaming session


Possibility to choose among Video and Audio/Video modes


Excellent quality streaming

Why is live remote camera activation useful?
Thanks to this exclusive Spy Verity feature, you can now view the immediate surroundings of your target phone. This function is very important for parents who feel the need to know where their children are.
Spy Verity gives an overview of where the phone is located, thanks to a video streaming feed.
If you want to be able to remotely activate the target phone camera's video streaming feed, all you have to do is trust Spy Verity, the only spy app available providing these exclusive spy features.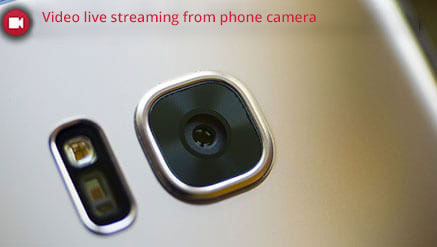 How to perform video streaming with Spy Verity?
In order to remotely activate the target phone's camera and have the live video feed, you need to access your personal dashboard and activate the "Live features". After that, you just have to choose between the two available streaming modes, "Live Video" or "Live Audio/Video". The first mode will activate video streaming only, while the second mode will also activate the video feed alongside audio streaming, for actually seeing and listening to what is happening around the target mobile phone. The video streaming feature's quality depends on the internet connection speed with which you connect to the user dashboard, as well as on the quality of the active data connection of the monitored mobile phone. An excellent 4G connection offers a high level of quality for the streaming.