Block any applications installed on your target phone
As the very best parental control spy software for android phones, Spy Verity offers the possibility to block the use of certain apps installed on the mobile phone. Just press a button to immediately block the use of an Android application. You can lock and unlock your favorite applications at any time as long as they are installed on your phone.
The application lock feature will allow you to:


Block the use of certain applications installed on the phone


Lock and unlock apps at all times


Why is the mobile application lock function useful?
The application blocking feature is a very important function for Parental Control, as it offers the possibility of blocking certain installed apps.
The apps feature is among the most requested ones by parents in need of blocking the use of apps which are unsuitable for their underage children.
Did you find an unsuitable app installed on your phone and do you want to block its use? Thanks to Spy Verity you can do it with a click, and immediately, you will make it impossible to use.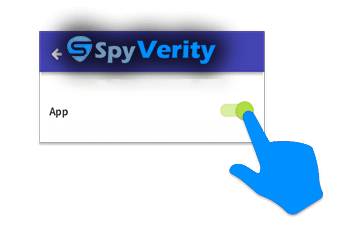 How to block applications with Spy Verity?
In order to block the use of an application, you just need to follow these very few steps. Once you have logged in to your Personal Dashboard, simply access the "Applications" section. Here you can view a detailed report of all applications installed. Next to each detected application there is a button dedicated to locking and unlocking the app. Once this button is pressed, the system will send the command to the application, which will block its use. Still, by pressing the same button you can send the command to immediately unlock the application installed on the phone. If you want to manage the use of applications on your target mobile phone, all you have to do is just choose the best Parental Control solution available. Choose Spy Verity.