Spy Keylogger for Android Phones
The Keylogger spy function allows you to view what is typed with the Android keyboard. Thanks to this function, you can get a lot of information on the use of the targeted Android phone. The keylogger detects what is typed with the Android keyboard and sends this information to your personal panel. The keylogger function can also detect entered email addresses and in most cases also accounts passwords used to access the many applications. Spy Verity's Android keylogger is the best spy keylogger ever, since it has a high level of success in picking up keys typed on the Android phone. If you want to find out what is typed with the mobile phone's keyboard, trust the best mobile keylogger.
The keylogger function will allow you to:


Know everything that is typed with the cellphone keypad


Monitor any phone application thanks to the keylogger function

Why is the remote phone keylogger function useful?
The keylogger function allows you to view everything being typed with your mobile phone, this way it is possible to obtain a lot of useful information, for example for safeguarding your children.
Let's say you need to know what accounts are being used by your child, or you want to monitor an application which is not handled by our features.
Thanks to Spy Verity, you will be able to discover almost everything being typed from the phone keypad.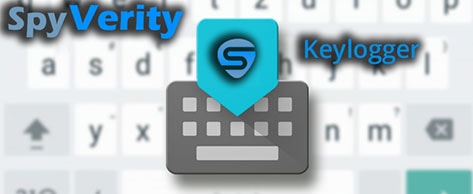 How to perform keylogger monitoring with Spy Verity?
To be able to view everything being typed from the mobile phone keyboard, all you have to do is simply access your Personal Dashboard and select the "Keylogger" section. In this section you can view all of the reports featuring words typed with the telephone keypad. The keylogger is active in the phone and captures almost all words typed by the cellphone. Spy Verity offers two types of monitoring with the keylogger: basic and advanced. The basic function is able to capture almost all letters typed with the default android keyboard, while the advanced function is able to perform much more detailed keyboard monitoring, but for this mode it is necessary to install a keyboard designed for keylogger function. Installing the advanced keylogger keyboard takes only a few seconds, as it only does so in three steps. If you want to spy on everything being typed from your mobile phone, you can just trust Spy Verity.